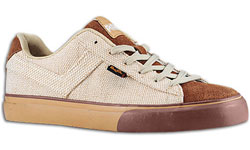 What's the first thing that pops into your mind when you hear the term "extreme sports"? Aside from the usual bungee jumps and the high adrenaline rush skydiving events, skateboarding would often be the most common thought. And in this type of sporting event, the proper kind of gear can often mean the difference between a stunning trick or an epic fail.
That is why it's always a good choice to have the right kind of footwear for you to flip, grind and jump that board of yours. The Pony Trenchtown, a smooth and fancy looking sneaker, can make your X-Games dreams come to life.
Don't let its looks fool you: looking more like a pair of sneaker meant to be paired with some signature-labeled clothes, the Pony Trenchtown has more than meets the eye. Sporting a wicked retro look (complete with breathable functions such as a perforated toe), this awesome footwear has everything to let you be the thrasher you've always aspired to be.
So if you want to get into the game, and look good as well while you show the entire world your whole plethora of tricks, make sure you're wearing the most efficient type of shoewear available. Go for Pony – wear a Pony Trenchtown today!
Features:
Leather Upper
Rubber Sole
Perforated Toe
Old School Look
Colors:
Price: $59.99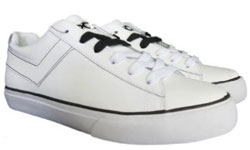 These other Shoe Brands List articles might be helpful to you