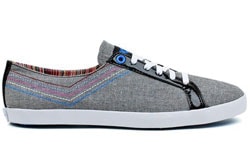 Being stylish doesn't need for you to go overboard. This is especially true for women's fashion, where every little detail of an overall look is considered important and given much emphasis. And in terms of casual women's wear, the main fault usually done is the overcompensation of some accessories.
And when we say accessory, we also mean footwear. Sometimes, a girl may actually look good in what she wears, sans the shoes. And wearing the wrong pair of shoes can lead to an awkward distraction, leading to equally uncompromising (and not to mention, humiliating) situations.
That is why, having a subtle, subdued and clean looking pair of shoes will not only make you look sharp, but can give you an added boost of confidence as well. Enter the Pony RX Shoes – a clean-cut, low-profile yet will make you stand-out from the rest type of shoes.
The Pony RX Shoes allow its wearers to experience looking sleek, without overcompensating for anything. Sporting a minimalist design (just the standard, yet beautiful, Pony stripes), these shoes were meant for walking and standing tall. And being a clean and basic design, this awesome pair of shoes matches up to almost anything you decide to wear.
So don't think twice – the Pony RX Shoes is definitely the grandest shoes you can have in your wardrobe. Get and wear a pair today.
Features:
Vulcanize Rubber Outsole
Contrast Stitched Designs
Comfort Proven
Canvas Uppers
Colors:
Price: $49.99

These other Shoe Brands List articles might be helpful to you