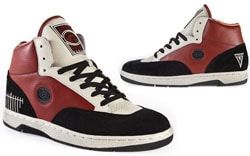 With all of the great shoes that Airwalk seems to dish out, you may want to wonder how the shoe company still impresses people with their releases. After all, it isn't a small wonder coming up and beating your greatest creations with something even more impressive.
Though Airwalk won't tell any of how they do it (if they did, then we probably wouldn't be able to wear cool shoes), we can observe how they do things. It's a matter of combining and innovating the greatest! In their case, they got their classics and tossed in the impressions of a cool and talented individual. The end result is the Airwalk X Mike V. Enigma Brooklyn Banks sneakers!
Showcasing the always powerful factors of their Enigma line, and considering the creative inputs of pro-skater Mike Vallely, the Airwalk X Mike V. Enigma Brooklyn Banks only knows how to do one thing: shred up the skate competition in style. Grace, comfort and protection are guaranteed in these kicks, that they can withstand any sort of torture found in extreme sports. Best of all, a great impression is given by simply wearing these shoes: you'll end up like the talented Vallely in it!
If you simply want to impress and edge out the competition – both in the park and the streets – consider wearing the Airwalk X Mike V. Enigma Brooklyn Banks. It's these kinds of shoes that gets the job done.
Features
Leather Upper
Suede Toe and Heel Cup
Asymmetric Heel Embroidery
Colors
Price
$80.00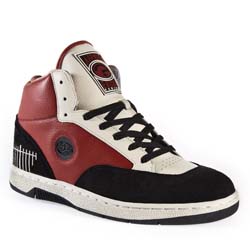 These other Shoe Brands List articles might be helpful to you