Let's get it on! With the hype and energy brought about by this tagline, it's no wonder that Pony Collegiate Shoes have enjoyed a great following!
Worn by its namesake (cool college students, of course) and almost any other person in need of jazzing up their footwear, these kicks bring in a whole new level of style for shoes.
It's a no frills, hassle-free effort after all! You don't need much to impress, as seen with these shoes minimalist yet striking design.
Perhaps what makes Pony Collegiate Shoes such a hit to wear is its simplicity. It's comfort when you need it, style when you choose so.
Able to match up with any get-up you choose to wear, it fits right into your lifestyle, by bringing in subtle grit and edge as well! Best of all, it comes in a myriad of colors, opening up options for you to match your personality and taste in your shoes. So get it on, and wear these funky and sleek shoes today!
Features
Signature Pony logo emblazoned into body
Clean minimalist design to go with any look
Rubber upsole for comfort and flexibility
Colors
White
Navy
Charcoal
Red
Blue
Price:
$55.00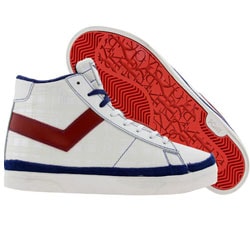 These other Shoe Brands List articles might be helpful to you