Women aiming to make a difference in casual street footwear do have their issues. First, there's this thing with wearing something really crass, that it eventually acts as a big distraction from the overall look (even with great tops and pants!).
Second, there's this big problem of wearing something really nice, but it isn't comfortable or safe to fit your feet into at all.
It's worrisome, alright – but with the Pony FTD Gleason, looking cool doesn't need to be a chore at all. With a high-cut profile, this awesome pair of shoes can match up with almost any sort of get-up. Plus, there are varied (and we mean a lot) of designs to choose from, with the high-cut upper coming in different patterns and colors.
Most importantly, it's made out of durable and lightweight materials, giving fashion-conscious individuals the safety they deserve.
The Pony FTD Gleason is a sure-bet on winning form. It's fashion-forward, without verging on eccentric avant garde. Plus, the shoes value comfort and safety at a very high level, giving women striving for a distinct look a much-needed peace of mind.
Though, don't let us spoil the fun of you having to read several other reviews on this pair of shoes. You just need to wear them – get it on, with a Pony FTD Gleason!
Features:
Canvas Finish
High-Cut Protection
Distinct Colors and Patterns to choose from
Old School Design
Colors:
Varied
Price: $54.99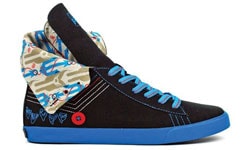 These other Shoe Brands List articles might be helpful to you