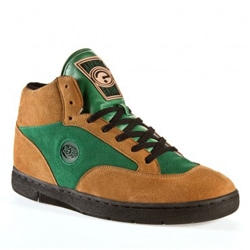 Just because a pair of shoes is different from the rest doesn't mean it'll perform poorly. In fact, that particular shoe may even deliver the best game there is for its owner! It's an enigma alright, but these special kinds of kicks have actually existed and blown the competition away.
One particular model has got its groove going by being totally different. The Airwalk Enigma Genesis, a green and tan highcut wonder, has proven to be a hit for almost two decades already. Aptly named for the brand's decision to be totally different from the rubberized and synthetic feel of it's then contemporaries, the Airwalk Enigma Genesis is made out of leather and suede materials.
This sort of tough combination, with a heavy appearance, had surprisingly outmatched the performance of the lightweight rubber competition. To complete the package, this pair of durable footwear is designed with a highcut brace, to give the total comfort and protection that every skater deserves.
Go against the flow. The Airwalk Enigma Genesis shows how being different can make the game. Wear a pair of these sneakers today.
Features
Tough Suede and Leather Material
Stitched outsole for total grip
Highcut design for comfort and protection
Colors
Green/Tan
Price
$75.00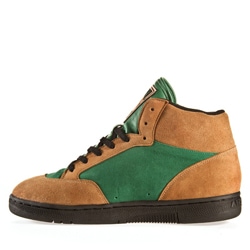 These other Shoe Brands List articles might be helpful to you