For the perfect balance of iconic looks, foot comfort, performance, and overall style, look no further than the Adidas Stan Smith. Perhaps as one of the most iconic sneakers ever to be created, this pair of awesome kicks will surely fit into whatever style you're into.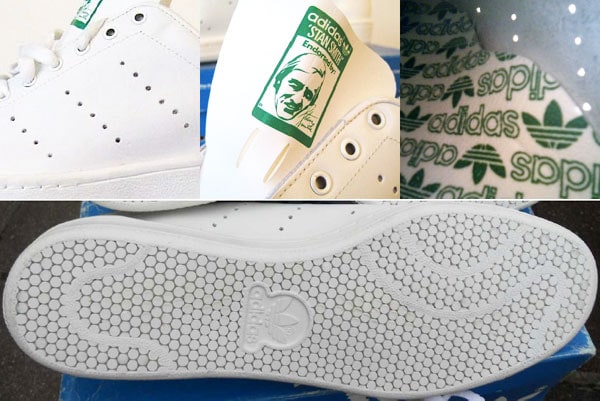 By Tohlsson – I made this picture from four different photos of details of my adidas stan smiths., CC BY-SA 3.0, https://commons.wikimedia.org/w/index.php?curid=24786775
Breaking Down this Adidas Stan Smith Review
We'd like to go deeper than the surface of the Adidas Stan Smith sneaker. Which is why we'd like to share some awesome tidbits of trivia, some subtle style points, and as well some technical aspects in the mix of this review. Yet, of course, no matter how much words we put in describing this shoe, you just need to wear a pair to find out and realize how awesome Stan Smiths are.
As such, we'd like to think we're slightly giving you a taste on the many style possibilities you can attain from this pair of sneakers. After all, a legendary shoe from a really amazing brand definitely delivers. In fact, just checking out the Adidas list of shoes from their official website just highlights a sense of class and unique look – which, of course, the Stan Smith definitely has.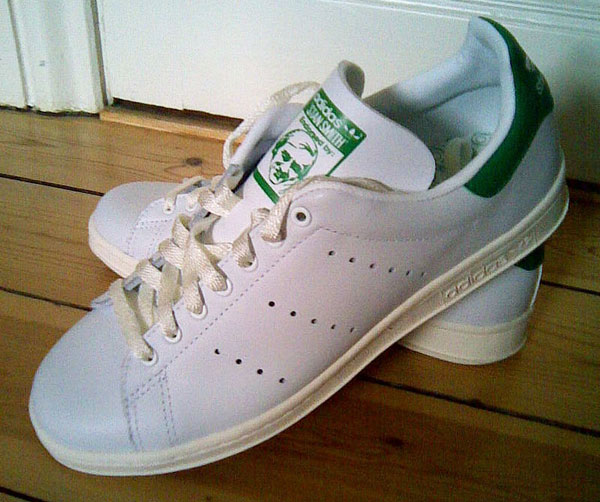 By Tohlsson – Own work, CC BY-SA 3.0, https://commons.wikimedia.org/w/index.php?curid=24640780
Some Stan Smith History for You to Know About
First things first, let's get up to speed on how the Adidas Stan Smith was conceptualized and created. The Adidas shoe brand, which first launched during the early 60's, decided to build upon the idea on creating the first even leather tennis shoe. By seeking advice from the American market, the shoe brand decided to promote the tennis shoe by getting professional tennis player, Stan Smith, as endorser.
Lo and behold, and more than simply providing a tennis shoe that provides comfort and performance, the Adidas Stan Smith made such an impact with its minimal and unique design. Given as well that Stan Smith ranked as the best tennis player in the world during the 70's gave the shoe an even wider visibility in the market. So much so, that during the 80's, Adidas has recorded a whopping 22 million pairs in a single year!
The Adidas Stan Smith continued to be an iconic sneaker even during the 2000's. With several variations and relaunches done in several continuing years, it is assured that this shoe is meant to be a mainstay when it comes to class, style, and even performance.
Popular Stan Smith Model Sneakers
Jazz up your style by taking inspiration from these popular Adidas Stan Smith versions. In as so much Adidas Stan Smith colors are best remembered with the basic hue, several models do offer and include variety to touch up your look.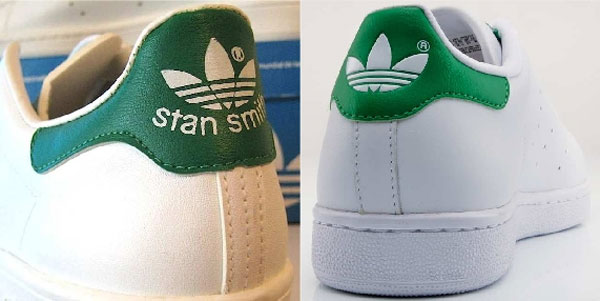 By Tohlsson – I made this picture from two different photos of two of my adidas stan smiths., CC BY-SA 3.0, https://commons.wikimedia.org/w/index.php?curid=24786832
The most common variant of the Adidas Stan Smith (and probably, the iconic image that has been imprinted among all shoe enthusiasts) is of a clean, white sneaker with green heel parts. Through the years, though, Adidas has released several varieties that come in different heel hue colors, with the additional experimentation on changing the overall shade of the entire shoe (such as a black shade instead of the basic white).
Also, another experimental (and exciting) replacement would be for the laces – some versions come with straps instead.


The firs version, or the classic image, would probably be the most iconic one so far. As the base model of all future Stan Smith variants, the simple yet functional take of this tennis sneaker surpasses even usage past the court – its clean look works well on any look, which makes it a shoe that efficiently can pair with any wardrobe out there.
Another popular Stan Smith model would be the 80's release. Retaining the clean cut image of the classic model, this variant includes subtle design touches, such as yellowed sole and laces. Also, this release introduced different color versions of the Stan Smith, primarily the also popular variant of a nublack shoe shade.
And yet, Adidas Stan Smith models can very well be considered as a perpetually evolving work of art. Seeing the classic design of a simple (yet stylish) white shoe can be optimized or personalized, this shoe has been a favorite among designers to work upon.
Sneaker art enthusiasts definitely consider Stan Smiths as perfect mediums to express their works – some of the best kicks can even be sold online for a hefty price compared to the original price tag of the shoe! And with Adidas recognizing the potential of the Stan Smith for designers, the shoe brand has even released the Adicolor design concept.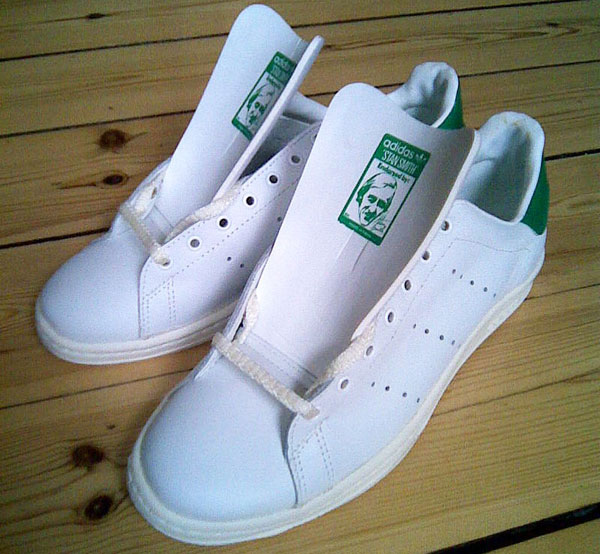 By Tohlsson – Own work, CC BY-SA 3.0, https://commons.wikimedia.org/w/index.php?curid=24640770
This awesome concept provides an individual the necessary tools to customize a Stan Smith, efficiently personalizing and making each shoe a unique accessory for anyone to treasure or own.
Technically speaking, the Adidas Stan Smith has these basic features:
Full grain leather upper finish
Leather lining for comfort wear
3-Stripes Adidas icon (perforated finish)
Stan Smith logo found on the tongue part of the shoe
Colored heel tab with a logo emblazoned on it
A rubber cupsole finish
No matter the variant, these basic components make up the Stan Smith. For a wonder shoe, simplicity is the key – and Adidas has mastered the craft on creating this legendary footwear!
Rocking the Adidas Stan Smith – Celebrities do love it!
Seeing the impact of Adidas Stan Smith sneakers, it comes as no surprise that celebrities love this shoe. This sneaker is a main and go-to component to not only spicing one's look – Stan Smiths are real comfortable shoes, efficiently creating the perfect balance of class and relaxation.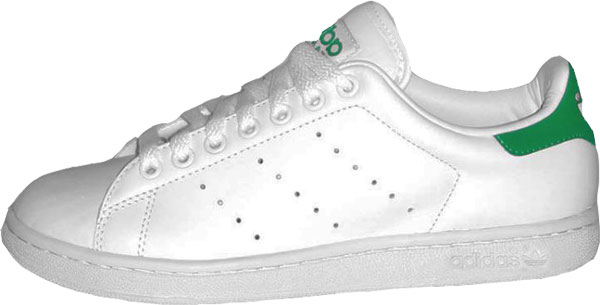 By Raizin – Own work, CC BY-SA 3.0, https://commons.wikimedia.org/w/index.php?curid=3172677
As such, it comes as no surprise that big names from almost any industry (sporting, entertainment, etc.) enjoy wearing Adidas Stan Smiths! Some cool names who sported this shoe (and for you to emulate their look) are:
Gisele Bündchen
Kendall Jenner
Gigi HadidPharrell
David Beckham
Gwen Stefani
..and the list goes on!
We hope that you'd get to wear (and own) the Adidas Stan Smith. This is one stylish shoes that wouldn't even hurt your feet!
Other Adidas Stan Smith Resources
Adidas Stan Smith Wikipedia Page
Adidas Stan Smith Official Page