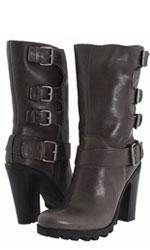 High fashion takes a whole new meaning – and a literal boost up towards the stratosphere – with the Nine West Javana. This pair of smooth leather, tough-as-nails, high-heeled shoes will sure make any woman the latest talk of the town.
And that, of course, is what is intended when you wear these shoes. You may be thinking of making the most out of your boardroom presentation, when making the best – and proper – impression is all that matters to land that deal, and get you that fat paycheck for your dreams.
Or maybe you want to stand out – in both the fashionable and literal sense – in the night life crowd, where you just got to have "him" (or "them", depending on your circumstances) stare at you as you strut your stuff on the dance floor. Whatever the reason, you can sure count on the Nine West Javana on making heads and eyes turn to you.
The Nine West Javana just doesn't look good, it gives you the comfort that your feet truly deserves. So to whoever gave the idea that high fashion hurts, you may want to stomp that train of thought with these boots. After all, your edgy appearance doesn't need to be a pain – in fact, you need to enjoy how you'd look, to show your best side to the world!
Features:
Lug Sole
Buckle Details to give you the edgy look
4" Chunky Heel
Colors:
Price: $119.20+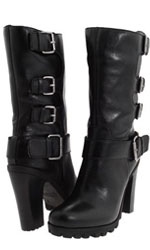 These other Shoe Brands List articles might be helpful to you