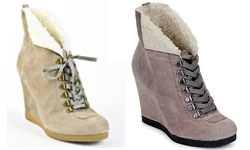 Sometimes, the most beautiful object in the world can be found in places where most would think as trash. A so called "jewel in the rough", as they would say. It's a gem, alright, but we're not saying that you should head out and dive into the deepest recesses of junk yards to search for the best articles of clothing. No, you don't need to do that at all.
It is always a treat, and perhaps a gift from above, that brands such as Nine West are always pushing the envelope to give us the best kinds of shoes to wear. Just like the Nine West Nyoko, a literal "jewel in the rough".
Now, why do we describe it as such? Maybe because the name "Nyoko", which in Japanese means "Gem", is such a fitting description of this pair of beautiful booties. With a rugged appearance, that is best worn for equestrians and the outdoor types, this grand spectacle of shoes surprisingly matches up with any fabric that its wearers' decide to don.
Maybe that's why it's so beautiful. The Nine West Nyoko provides both comfort and grace, which are both essential factors of a beautiful woman. Now, going back to the "jewel in the rough" business, maybe you are the gem you're searching for! The Nine West Nyoko further accents your beauty, a match that will fit your personality!
Features:
Faux Shearling Cuff
Vintage Look
Lace Up
Wedge Heel
Suede
Colors:
Price: $43.60+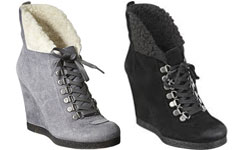 These other Shoe Brands List articles might be helpful to you