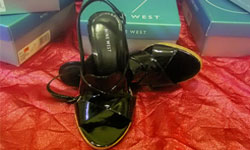 There's this common notion about wedges, that they're not exactly high-class because they aren't exactly high heels (now isn't that a rather common observation, on its actual physical attributes?). Nevertheless, what wedges can't give out on style, can be compensated with the same level of height and comfort they definitely can dish out for its wearers.
But if its high class style that you're looking for, combined with the comfort and grace that a pair of wedges can give, then you need not look any further than wearing the Nine West THEGHOST. Not your typical, run-of-the-mill wedges, these bohemian-like shoes are definitely a hit for fashionistas everywhere.
Probably what makes the Nine West THEGHOST such a great pair of wedges is that screams class in every single material it's made of. Designed by stunning model and musician Karen Elson, the vintage look that these wedges exude is a match with almost anything in your wardrobe. Plus, it is such a comfort to wear, that you'd probably be ditching out your heels for these!
So, take out that idea from your head, that wedges are just limited to casual events or that they're not exactly high class shoes. With the Nine West THEGHOST, you're bound to make heads turn, and set new standards on how class should be. Make sure to wear a pair today!
Features:
Wedge T-strap
Glitter Accent
Sliver peep toe
Colors:
Black
Price: $44.70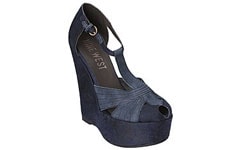 These other Shoe Brands List articles might be helpful to you