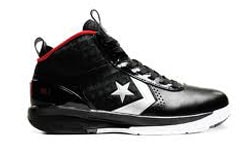 A classic-inspired basketball kicks, the Converse Pro Leather 2K11Converse Pro Leather 2K11 is the ultimate shoes to wear if you want a cooler and more comfortable game. It is basically an evolution or re-design of the Pro-Leather shoe, a popular Converse performance shoe endorsed by Julius Erving in 1976.
But although it was based on a classic basketball shoe, Pro Leather 2K11 offers so much more– a modern-day trademark plus a style that's geared towards a great on-court performance.
Features:
The main body of this shoe is made with two different fabrics– the mesh/leather which covers most of the ankle area; and a two-tone metallic leather placed in the toe area.
The shoe has a breathable cushion, using the Converse Balls Technology. Like the DEFCON shoe, Pro Leather 2K11 also has small rubber balls inside that allows you to absorb impact and still provide energy back to your feet.
It provides ankle support through the Contain Technology that was used, together with an external TPU heel counter.
Colors:
Converse Leather Pro 2K11 has a blue, silver and white color scheme, while the toe area is a special two-tone metallic blue.
Price: $67.39 – $99.99
Get in the game with your Converse Pro Leather 2K11 shoe. It's a combination of classic basketball kicks with the most innovative technologies– something that can definitely complement your performance on-court.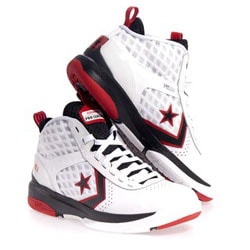 These other Shoe Brands List articles might be helpful to you