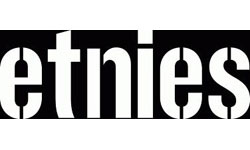 Actions speak louder than words. This can be said out of progressive shoe brand Custom Etnies, with its diverse and low-key products. Being, first and foremost, a popular shoe brand meant for skateboarders, thrashers worldwide definitely take pride on having a trusted pair of sneakers that would take whatever punishment it is to land those tricks.
And the world of skateboarding actually honors Custom Etnies contribution to the lifestyle and the sport. With the brand making sure that its target market gets the recognition that it deserves, the company has actually invested and created the world's largest skatepark ever, the Etnies Skatepark. Located in Lake Forest, California (which, incidentally is also the birthplace of the brand), the park boasts of 40,000 square feet of pure track – it is a thrasher's dream turned into reality!
Related Other American Footwear Company DC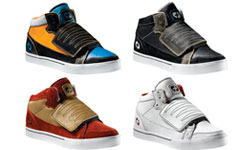 Even more so, focusing on the shoes themselves, quality and material are of the main priority. Soles are made out of the most durable materials, guaranteeing extreme sport athletes that tricks can be dished out properly. Style doesn't take a back seat, of course, with sneakers standing out from other brands for a unique and impressive look.
It may be low-key, but it's no pushover. Try on a pair today of Custom Etnies Footwear today. We bet you'd be sporting the shoes around for a bit!
Here is the full list of Etnies shoe models and variants:
BLEDSOE LOW
BARGE LS METAL MULISHA
SHECKLER 6
JAMESON 2 LX
WAYSAYER MAKIA
WAYSAYER LX
CHARTER LEVI SHERWOOD
PISTON LX
PISTON
RVM LX
CHARTER
KONTRA
CHARTER CHAD REED
CARTEL METAL MULISHA
CARTEL
CARTEL TWITCH
ROCKFIELD
ROCKFIELD ROCKSTAR
ROCKFIELD TWITCH
KONTRA METAL MULISHA
LAYERED AIRBAG
LAYERED AIRBAG LEVI SHERWOOD
FADER 1.5
FADER 1.5 METAL MULISHA
FADER METAL MULISHA
FADER TWITCH
FADER 1.5 ROCKSTAR
NUMBER MID
RVM
RVM BEN LEWIS + FIT
SHECKLER 5
CHAPLIN
JEFFERSON MID
BRAKE NATHAN WILLIAMS
CONNERY
SANTIAGO 1.5
FAIRFAX
BARGE LS MAKIA
BARGE LS NOZAKA
RCT
GILMAN
DAPPER
DAPPER MAKIA
DORY
LO-CUT II LS
JEFFERSON
JAMESON 2 NOZAKA
JAMESON 2
JEFFERSON TWITCH
Marana
JAMESON 2 ECO
DAPPER WILKO
DORY WILKO
Check out these other Shoe Brands Category
Official Website of the Company: