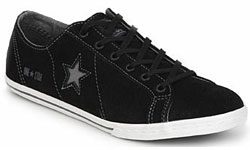 Old school never gets old. It's a contradiction, maybe so, but with Converse products, that probably is the definite truth. And the truth can't get any better than the One Star Suede Low Profile.
It happened way back during the funky era (1974 to be exact), that Converse decided to come up with a pair of kicks for ballers to show off their moves. And players from all kinds of courts did grace themselves with these wonderful shoes, that it is still a mainstay in contemporary fashion.
And it goes without saying that the One Star Suede Low Profile is indeed a one-of-a-kind pair of cool kicks. Always emulated, but no one can ever get the original's style, this great pair of shoe's main defining feature is its comfort. And when we say "comfort", we mean by the literal sense of having shoes that you'll actually wear in a breezy manner, and on how comfortable it is to match up with any kind of get-up you decide on wearing.
That said, we can categorize the One Star Suede Low Profile as Old School – and that, of course, is a good thing! Heck, it can be the highest honor for a pair of sneakers, being a vintage classic that's up to par with anything in the market today!
Features:
Suede
Leather-Low Top
Rubber Sole
Lace-Up
Single Star Accent
Colors:
Black/Charcoal
Brown
Orange
Camo
White
Red
Price: $65.00+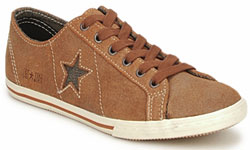 These other Shoe Brands List articles might be helpful to you