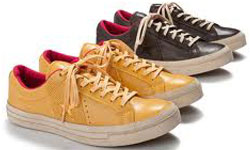 There's something really cool with Converse products. No matter outfit or get-up you're currently sporting – whether it be straight-up formal wear, casual or just simply bumming around in your typical everyday wear – chances are, that any kind of sneaker they have will match it. Think about it: even celebrities out in the red carpet still look dashing in evening wear, while wearing a trusty Converse sneaks at the same time!
It's basic really, maybe even plain and simple – and that probably is the thing that makes it so extravagantly genius. For starters, just check out the One Star Classic. One of Converse's most basic shoe line, almost nothing has been changed since its debut way back in the summer of love (actually, 1974).
Freestylers would probably acknowledge how comfy these sneaks are. It's a trusted pair of shoes, that comfort, safety and style is packaged all within. Plus, it comes in a large myriad of colors, that you can be sure to stand out from the rest of the crowd (speaking of which, why should you stand out? One Star Classic patrons are definitely the coolest cats out there!).
Perhaps this is what makes Converse so cool – they don't need to perfect their products, because the simplest things in life are already A-OK. Just like the One Star Classic. Make sure you're sporting a pair today!
Features:
Made out of different textures (depending on model)
Single Star Accent
Lace-Up
Color-Variety
Rubber Sole
Models:
One Star Classic '74 HI
One Star Classic Basic
One Star Classic Chrome
One Star Classic Oxhide
Price: $59.00+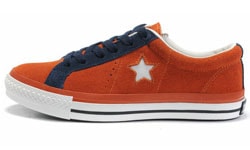 These other Shoe Brands List articles might be helpful to you