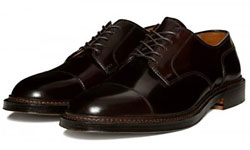 Office boardroom fashion is often underestimated. Perhaps mainly because most executives belong to the male gender (though not bordering on the sloppy classification), deciding on what to wear makes one's personal appearance a chore. But then again, why should you miss out on creating a great impression, especially for a place where you definitely need to stand out to succeed?
That is why investing on the right kind of shoes can lead you to the right places. "It's just shoes," so would most men say, but let us tell you right now: without the proper shoes, you can as well say goodbye in job promotions and contract deals.
And perhaps the best way to dress your feet up is with something elegant and functional as well. Something like you – the smart, edgy, business executive with goals to achieve. Something like the Alden Straight Tip Blucher, a straight-to-the-point, as-a-matter-of-fact footwear.
The Alden Straight Tip Blucher shoes' defining highlight is its impressive look. It makes you look like part of the crowd, with that much-needed glow to stand-out. It's a conundrum, but it works like charm in which success is definitely guaranteed. "It's just a shoe," you may well say again – but it's more than just a pair of leather footwear for you to slip your feet in! It is boardroom fashion (the great type) defined. Its features speak more than meets the eye:
Features:
Aberdeen last (a subtle hint, but one that will make the wearer exude a sense of class)
Heavy Single Leather Sole (no fuss, made to withstand external threats)
Pure Vegetable Tanning
Tempered Steel Shank
Shell Cordovan (rare leather horse hide)
Colors:
Price: $779.00+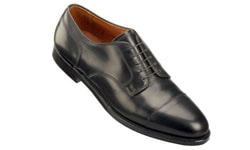 These other Shoe Brands List articles might be helpful to you