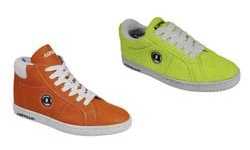 Airwalk, with its gamut of footwear released to all sorts of line of work and play, has always known to dish out the classics. One particular classic, the Jim, is known to provide a head-turning and cool atmosphere for its owners. After all, who can resist the great and respectable appearance of tennis ball felt?
Still, the brand constantly tries to outdo their creation. Taking a step higher from the fuzzy green appearance of the Wimbledon ball, a fun and still respectable decision was decided for their next model. The Airwalk Jim Tennis – Yellow has all of the factors that make a classic a hard to let go fashion accessory, with an additional thrill: it's in yellow!
It's the best of both worlds! Respect is dished out, with the tried and proven approach of using a classic appearance to wear! Include the decision of using the color yellow – a bright one, that is – shows that its wearers are more than a stiff bunch of individuals. In fact, it brings a sense of calmness – both for its owners and "fans", if that is an apt term – that is always needed in the tennis court and the streets.
Go for it: the Airwalk Jim Tennis – Yellow just shows that a simple color change can mean a lot. But don't take our word for it. Just go and wear a pair of this very fine shoes and experience how to get the right kind of attention!
Features
Fuzzy Yellow Color Scheme
Proven Tough Airwalk White Outsole
Durability and Comfort Combination
Colors
Yellow
Price
$90.00