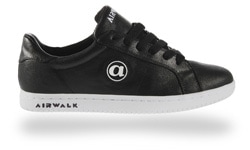 Everyone knows the appeal of how Airwalk was able to mesh the wondrous charisma of tennis ball felts to its shoes. It's a shoegazer's dream come true, with being able to admire the fast paced thrill of a sport in a fashion accessory. Because of this rather innovative move, you can't help but wonder if the brand can come up with something new.
Knowing Airwalk, that simply is the case. Going against the flow and always wanting to give an edgier side for its customers, the designers from the known company have actually churned out a tough pair of sneakers. Announcing the Airwalk Jim Canvas – Black, it's a different version of the classic Jim, without losing any of its charisma!
A moodier pair, it is the perfect pair of sneakers wanting more than attention. Respect is especially given, with the emphasis of using the color black. What's more, taking out the tennis-felt appearance, the brand replaced it by using canvas – a harder finish, which of course results in a confident and awe-striking appearance.
More than a classic pair of sneakers, the Airwalk Jim Canvas – Black still provides its owners with something crucial for their lives. The durability and comfort will never edge out by wearing these shoes. So for something different – yet with the same level of respect for the classics – opt to wear the thrilling Airwalk Jim Canvas – Black Shoes.
Features
Black Canvas Construction for an edgier appearance
Durable white outsole
Synthetic Lining
The upper consists of waxed canvas to give the shoe model a crisp and durable appearance.
Looking for a shoe that has a street grip and maximum court? Then for Airwalk Jim Canvas – Black's cupsole construction has everything you need.
As for the comfort, this shoe model is A+ because of the molded feature called EVA.
Welt and throat line are stitched for increased durability.
Colors

Black

Price
$75.00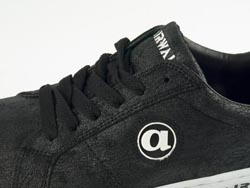 These other Shoe Brands List articles might be helpful to you