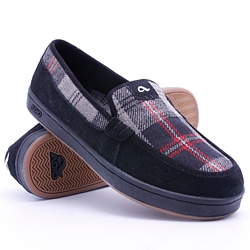 Slip-ons aren't given the attention they deserve. Sure, they're comfortable than most shoes, but in the manner that they're designed, most would prefer wearing sandals instead. Some slip-ons aren't even made to match up with a certain wardrobe.
More often than not, this particular kind of footwear is made only to wear with shorts. Such is the peril of these under appreciated sneakers.
But this isn't the case with the stylish Adio Thurston shoes. Designed not only to provide a great feeling of comfort to one's feet, it is also made to perform in situations thought otherwise. Having to do kick-flips and ollies aren't a chore with these shoes. Protection is guaranteed as well, without even losing out on style points.
Best of all, the Adio Thurston shoes' main highlight is its cool look that fits in to almost any kind of clothes you choose to wear. It's an everyday shoe, without the shoddy appearance of one! Choose the Adio Thurston shoes and make sure you get to fit a pair today.
Features
Herringbone design that catches people's attention
Polyurethane cushion for extra comfort
Suede finish
As what was mentioned above, this shoe is a slip-on. If ever you find yourself in a hurry, you will find it easy to wear your footwear in just a few seconds.
The logo embroidered on the tongue of the shoe makes it look more spruced up.
For durability and comfort, polyurethane was added added on full length.
Slip-ons are also good to use when skate boarding – as long as it's Adio Thurston. There's an available SST version of this type if you're after the extra skate protection.
Colors
Price

$33.99

These other Shoe Brands List articles might be helpful to you