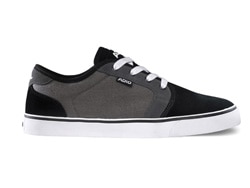 The mark of a great pair of skate shoes is the reliability it brings on making things happen. Whether it is for outperforming other skaters in the park, or just by bringing in some style points to dazzle the competition, what matters most is that those sneaks won't break down when the going gets tough. It is, after all, a necessity for extreme sport gamers to compete!
And the Adio Symbol shoes do just that. Sporting a clean-cut yet stylish look that definitely will give other thrashers a run for their money, these shoes have more than meets the eye. Designed to outplay, the Adio Symbol shoes are specially designed to last in the skatepark, giving a much needed edge on doing the tricks needed to win.
The sole of this performance-enhanced footwear is made to let its wearer actually feel the board – with the added benefit of true and hard-hitting protection.
So, if you want to make a mark in being a great thrasher, or just want a trusty pair of shoes you can definitely rely on, make sure to wear the Adio Symbol shoes. It is the right choice to leave the proper impression – both in performance and style!
Features
Moisture Protection Wicks
Suede Fabric Protection and Style
Vulcanized Rubber Outsole for definite protection
Are you a savvy pro skater who does ollie tricks often? Then the extended toe caps on this shoe model will surely give your shoes extra protection during those tricky moves.
The shoe model's low profile on the upper makes it more flexible to use. Performance is guaranteed better.
A good shoe cannot be complete if it doesn't have a full-length polyurethane – an essential material for heightened comfort and toughness.
This one's a classic fit shoe model. It's slimmer, it's athletic fit in a sense that board feel and flexibility is beefed up.
Colors

White/Black
Brown/Tan
White/Red
Black/Dark Grey
Price
$40.99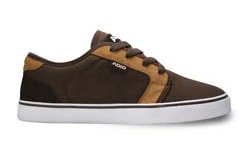 These other Shoe Brands List articles might be helpful to you