When considering what kind of skate shoes to wear, you may want to consider one that's actually a bond of yourself. Think of the footwear making an oath, that it'll deliver what you've been looking for.
Whether it be something that'll make you accomplish those tricks that you've been working hard, or something that'll make you look good while you go for a walk in the streets, you want something that will actually understand what you want.
That is why the Adio Oath Shoes is a unique pair of shoes to wear. Just the way it is designed gives the impression that it is a durable footwear to wear – and it is! Uniquely designed to withstand any sort of torture that a skateboarder may encounter, the Adio Oath Shoes promises to only make those die-hard stunts to happen. And it is no Jack-Ass at all, nor it is a punk shoe that masochists wear.
It is actually a stylish pair of sneakers that you can take pride of wearing! With the signature Adio logo emblazoned on it, it is a sign to represent the oath that you were assured of.
Style, performance and actual delivery. These are what you can expect from the Adio Oath Shoes. Wear a pair today!
Features
Tough fabric that will withstand action sport tortures
Dual density Insole to withstand shock
Moisture absorption wicks
The shoe model has 400 nbs rubber cup sole for better grip and exceptional performance.
Because the shoe model was designed low profile on the upper part, flexibility is guaranteed.
Adio Oath was manufactured with polyurethane for increased comfort and durability.
This shoe model also has a medium level and padding – perfect when you want to have footwear that will match your skate boarding preferences.
Colors
Price
$42.50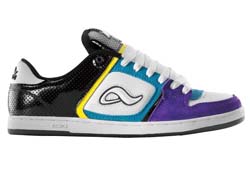 These other Shoe Brands List articles might be helpful to you