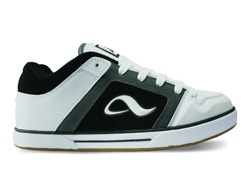 Everyone wants to look great in the skatepark. Whether you're doing death-defying tricks or just plainly bumming around and appreciating the many wonders of skaters, you'd want a pair of shoes that will definitely make you stand out. And what better way to wear a cool pair of sneaks than one made not only by a pro skater, but a hunk of a guys as well (lucky for girls).
We're talking about Kenny Anderson here, folks. Somehow a splitting image of Incubus singer Brandon Boyd, the talented thrasher doesn't only flair his skills – and looks – in the ramps and parks. He's actually a multimedia artist and one of his many accomplishments is designing skate shoes. And the Adio V2 Shoes, one of Anderson 's creations, is a perfect example of his cool personality.
The Adio V2 Shoes doesn't give in to the pressure of the skateworld. Instead, it embraces it. Just like how Anderson doesn't mind a bruise or two, this pair of shoes can withstand any sort of punishment. Best of all, it doesn't seem to wreck at all – it looks as good as its designer, even on its bad days!
So if you want that killer edge and smooth looks for your feet, go for the right gear. Wear the Adio V2 Shoes for an awesome action sport experience.
Features
Specially designed by Pro Skater Kenny Anderson
Tough exterior helps protect feet
Thick rubber outsoles to grind through the park
Adio V2 is a classic-inspired footwear that can be equipped on casual days. The colors in it complement with each other, making the shoes look decent yet cool.
The toe caps were made durable for extra protection. When you're having a busy day, running to and fro for some errands or activities, you don't have to worry about getting your shoes worn out.
For the increased quality and comfort when wearing this footwear, polyurethane was used as an essential material for a nice V2 experience.
When you want to have a tougher version of this shoes for your sport, like, skateboarding, there are models available at a few added price.
Colors
Black/Charcoal
White
Black
Red
Blue
Price
$70.00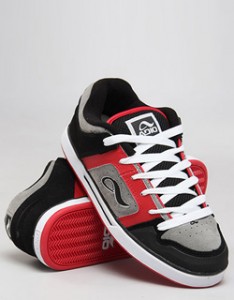 These other Shoe Brands List articles might be helpful to you