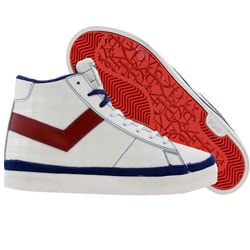 Pony has always given us a long list of stylish, clean and wearable shoe designs for years now. But with its four new recently released high-tops called the Pony Collegiate Collection, it proves that it still can offer so much more.
This is perhaps the best pair of sneakers every student would love to have, especially when the stress of exams and various school work begins to take a toll and stress them out. That's why if you are a student who wants to break the ice and add vibrance to your life , try the Pony Collegiate Shoe now.
Features:
This Mid Top shoe comes with a rubber cup sole and an Eva insert, ideal for students looking for a comfortable footwear.
It has a Nubuck upper with leather accents that runs along the eyestays and bottom edges of the uppers.
This has a padded collar with a suede heel strike.
Colors:
The four main colors are red, navy blue, black an grey upppers, all with classic white soles. However, there are also some great color combinations to choose from:
White/Red/Blue
White/Navy/ Charcoal
Black/Charcoal/White
Black/White/White
Grey/Royal/ White
Price:
$65.00
Give yourself a break with the Pony Collegiate Shoe Collection. No matter where you are– at school or just hanging out with your friends, it can definitely add a whole new meaning to comfort and style.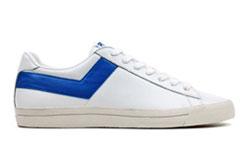 These other Shoe Brands List articles might be helpful to you