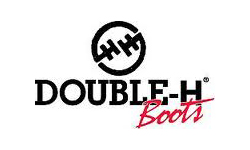 The Wild West, with guns a-blazing and cowgirl's a-chasin', is a time so much fun to be in. if it weren't for the often underestimated sense of fashion, wherein practicality edges out style and comfort. It's actually a time when you only need trusted footwear to get you through the worst of times – and unfortunately, most Western-inspired boots aren't that good-looking at all.
Now, for Double-H Boots Footwear, a popular Western footwear manufacturer, this notion of not looking good in full cowboy regalia ends. Making sure that practicality, comfort, and most importantly, style is incorporated on each of their boots, this fancy and dandy brand only produces the best that the West can be proud of. It's a passion for them, in which living the Western lifestyle can only be done by having the proper shoes for your weary feet to rest on!
Related Other American Footwear Company DVS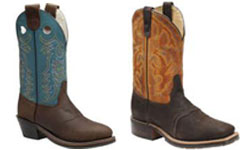 And just to make sure that only the best Western life can be experienced for all, Double-H Boots Footwear has line for women and children as well. It's a strategy that works two-fold: more people can have a unique and beautiful sense of style, and enjoy the safety and practicality of Western-inspired shoe wear.
It's a treat, alright, and it's a safe bet that we'll all be riding down towards the sunset with these handy and beautiful boots!
Here is the full list of Double-H Boots shoe models and variants:
Men's 10″ Domestic AG7™ ICE™ Packer 9625
Men's 10″ Domestic AG7™ Ranch Wellington 3720
Men's 10″ Domestic Gel Cell™ Packer DH9635
Men's 10″ Domestic Harness Boot 4008
Mn's 10″ Domestic Ranch Wellington 2555
Men's 10″ Domestic Steel Toe AG7™ ICE™ Packer 9825
Men's 10″ Domestic Steel Toe AG7™ Ranch Wellington 3820
Men's 10″ Domestic Steel Toe Ranch Wellington 2655
Men's 11″ Domestic AG7™ Ranch Wellington 2522
Men's 12″ Domestic AG7™ Work Western 3283
Men's 12″ Domestic AG7™ Work Western 3282
Men's 12″ Domestic AG7™ Work Western 2282
Men's 12″ Domestic Gel ICE™ Work Western DH1552
Men's 12″ Domestic Steel Toe Gel ICE™ Work Western DH1592
Men's 12″ Domestic Steel Toe Harness Boot 2810
Men's 12″ Domestic Steel Toe Work Western 2307
Men's 12″ Domestic Work Western 1600
Men's 12″ Domestic Work Western 4620
Men's 6″ Domestic Side Zipper 1712
Men's 8″ Domestic Steel Toe Work Lacer 9814
Men's 8″ Domestic Work Lacer 9714
Men's 8″ Domestic Work Lacer 9712
Men's 9″ Domestic Logger DH9760
Women's 8″ Opanka Packer 1086
Women's 8″ Opanka Packer 1088
Men's 10″ Domestic AG7™ Ranch Wellington 2624
Men's 11″ Domestic Broad Square Steel Toe ICE™ Roper DH3551
Men's 11″ Domestic ICE™ Roper DH3599
Men's 11″ Domestic Wide Square Steel Toe ICE™ Roper DH3567
Men's 11″ Domestic Wide Square Toe ICE™ Roper DH3556
Official Website of the Company: