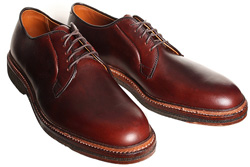 Respect can actually lead to success – remember this, for this thought can actually be considered as any successful person's best-kept secret. And sure, you may be thinking that you actually deserve to be respected, with all the accomplishments, skills and talents that you have under your belt. So how come you aren't successful?
Well, it may have to do with the way you dress, or worst, the type of shoes you wear. Believe us, you may have the best clothes out there, the signature shirts and asset-defining pants in the market. But without the perfect pair of shoes to go with your look, you may as well consider yourself as one big joke.
Don't make this mistake – you are sure to regret it if you do. So if you want to actually get the best out of success – corporate, life, or no matter how you decide to define it – make sure to wear respectable shoes.
And your best bet for footwear of this caliber is no other than the Alden Plain Toe Blucher. Now, don't let the word "plain" fool you. These classy yet practical lace dress shoes are the perfect fit to almost any kind of ensembles. That in itself is one great accent for respect and success. And the best thing about the Alden Plain Toe Blucher is that it comes in a variety of colors, giving you the assurance that you've got choices to choose from. Now, how would you like to dress for success?
Features:
Full leather linings
Leather Insole
Cork Mid-sole
True Goodyear Welt Construction
Steel Shanks
Colors:
Price: $620.00+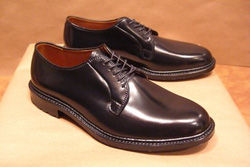 These other Shoe Brands List articles might be helpful to you