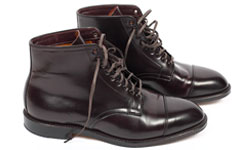 Dress to impress – such a simple expression that's bound to make a statement. It's done on almost every waking moment of your life, from getting to work (and of course heading up the career ladder), to sweeping the girl of your dream's feet towards your ever strong arms (as cheesy as it sounds, but then again, it's the truth).
Seriously now, dressing to impress isn't only for people around you. It's for yourself, to hike up your confidence, to let you stand tall against adversity (mostly metaphorical) and be an overall better person. And in terms of "hiking" and standing up tall, the best clothing accessory are your shoes.
The Alden Cap Toe Boot definitely can serve as the best footwear for this. With the capability of jazzing up your look, with the added support (literal support) of keeping your posture up with it's high-cut frame, these fancy pair of boots are meant to be worn to boost up impression (first, second, third and so on).
Fancy may not even be the right word to describe these boots – it's downright right for any kind of occasion. Whether it is for typical office wear or those oh-so-special occasions, Alden Cap Toe Boot is a must to have the best kind of shoes to wear.
Features:
Bootmaker Edition Shell
Pure Vegetable Tanning
Double Oak Leather Outsoles
Tempered Steel Shank
Colors:
Black Shell
Dark Burgundy
Price: $617.00+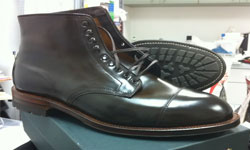 These other Shoe Brands List articles might be helpful to you