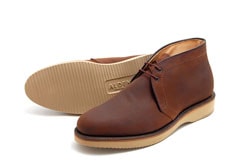 Who would have thought that style and comfort can actually be both contained in a pair of boots? Well, it is possible, as seen in the Alden Chukka Boot.
As the premier example of cool and classy boots, the Alden Chukka Boot looks stunning in both the office and rugged outdoors. Heck, it's durable with its Goodyear welted construction, use of calfskin in combination with hard leather and of course, Alden's signature inclusion of tempered steel shanks.
And in terms of looking good and standing out from the rest of the crowd, these nifty boots bring in the classic grace and style of a successful and very well-groomed man.
Best of all, wearing these classy dress shoes goes well with any kind of outfit there is. An executive meeting, with the added risk of losing a contract? Wear these boots to make a winning impression! Or a black tie event, with you hoping to impress your date? Stand out from the rest of the crowd (which you can imagine right now, with you included, look all like penguins!) by literally moving your best foot (in this case, shoe) forward.
And the best of all, if you just need a pair of shoes for you to wear as you trek the lonely wilderness, make sure you do it in style! The Alden Chukka Boot has everything for any sort of situation!
Features:
Flex Welt Suede
Vegetable Tanned Insoles
Leydon Last
Calfskin Uppers
Cork Insulation
Colors:
Dark Brown Kudu
Brown
Black
Dark Brown Chromexel
Price: $460.00+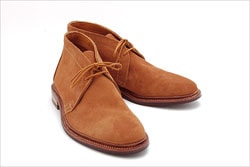 These other Shoe Brands List articles might be helpful to you