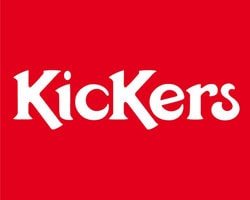 Kickers is a footwear and clothing brand based in France and was first created in 1970. The company started when its founder Daniel Raufast saw a poster of the hit musical Hair posted on a wall. He noticed that the main characters on the screen were wearing blue jeans but no shoes. He then thought of a footwear that could actually match the said jeans.
And so Raufast designed a shoe and was helped by a French designer named Jacques Chevallereau. They created the first ever jean boot. This unique footwear was very different from any other shoe in the market. It uses the nubuck which has a varying shape that made it look like short boots. It also has crepe soles that were made from natural eyelets stitched together with eyelets, panels, and contrast stitching.
This design is meant to be patterned to the look of denim. The successful sales of the boot was really unexpected that the Kickers Company boosted from 300 pairs to a whopping 12,000 pairs per month. Its success then went to Germany and in 1974, to over 70 countries worldwide.
Related Other French Shoe Company Lacoste
The first shoe became very successful in the United Kingdom in the 1980s. Because of its high demand, British kids would even fall in line as late as 10 o'clock in the evening to wait for the deliveries. The stocks run out in just minutes of posting.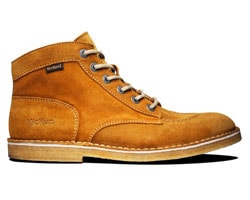 They released yet another shoe, the Kick Hi boot in 1975. This new boot became very popular in the music industry when it was worn by the icons of the Manchester music era. The Kick Hi boot then dominated the rave scene, particularly with the acid house and with trance music. Lots of fans of the boot came from various musical backgrounds such as pop, hip hop, RnB, and UK garage.
Here is the full list of Kickers shoe models and variants:
Men
Kick Lo Largit
Kick Phat
Ferock Boot 2
Kick Hi
Kick Lo
Ferock Lace 2
Ferock Slip 2
Kick Hi Largit
Reasan Slip
Reasan Strap
Reasan Boot
Reasan Lace
Photos of Kickers different types of shoes
(Photos Courtesy of http://www.kickers.co.uk/)