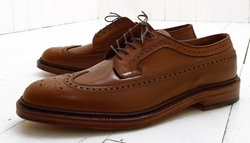 Atlantic City, setting of popular and stylish HBO miniseries Boardwalk Empire, offers a gamut of fashion-forward (for their time, Prohibition that is) individuals that are still applicable for contemporary periods. One particular clothing accessory that strikes a high chord in their characters, particularly the gangsters, are their shoes – wing tips and bluchers seem to give the air of respect and wealth!
Though prohibition is way over, and the time of gangsters may actually be an even more life-threatening issue nowadays, you can still dress the part of one. Simply get yourself a pair of Alden Long Wing Blucher for a guaranteed stylish time.
The thing with Alden Long Wing Blucher shoes is that not only does it allow you to look like Nucky Thompson (who of course, is the lead character of Boardwalk Empire) in his prime, but also will prevent you from looking like a lowly goon (which isn't always a good thing – both as a style guide and profession).
And to add one more benefit on why you need to own a pair, the Alden Long Wing Blucher shows off intricacy, with its delicate and beautiful leather craftsmanship. If that isn't enough reason for you to purchase these masterpiece shoes, then you may want to talk to Nucky for a change!
Features:
Vegetable Tanning
Hard Finish
Tempered Steel Shank
Cork Layer
Dovetailed Heels
Colors:
Dark Burgundy
Black
Cigar
Ravello
Price: $710.00+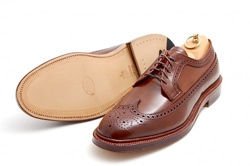 These other Shoe Brands List articles might be helpful to you