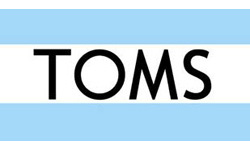 TOMS Shoes Footwear is a brand of footwear based on Santa Monica, California founded by Blake Mycoskie in 2006. Blake together with her sister joined second season of The Amazing Race and visited Argentina. He returned there on vacation in January 2006 and thought of an idea to develop a shoe company where for every pair sold, a new pair would be donated to a child in need of shoes.
Due to their unending kindheartedness, TOMS was honored with the prestigious People's Design Award from the Cooper-Hewitt National Design Museum, Smithsonian Institution. Two years later, Blake and TOMS received the 2009 ACE award by Secretary of State Hillary Clinton, which recognizes companies' commitment to corporate social responsibility, innovation, exemplary practices, and democratic values worldwide.
Related Other American Footwear Company Vans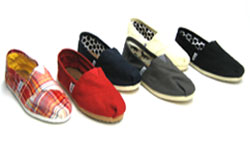 TOMS products are based from Argentine alpargata design which is normally flat but due to the evolution of style, it is also available for high heeled shoes. They are usually made with a canvas or cotton fabric and a flexible sole made of rubber material. TOMS offers several other styles like Cordones, Botas, Wedge and the Wrap Boot. TOMS has a big name in fashion trend and very in demand especially with the girls. Their products are highly known for flexibility and lightweight features. It doesn't squeeze your feet and makes you stable as you walk.
Check out these other Shoe Brands Category:
Official Website of the Company: