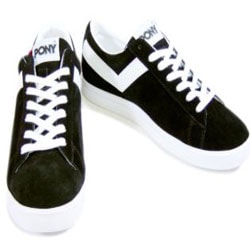 If you think you are a star, then the Pony Original Top Star sneaker is just the right thing to wear. That shouldn't come as a surprise as Pony, a fashion athletic brand, houses both old school and originally inspired fashion shoes.
But beware of this shoe– staring at it for long hours can cause you Pony Overload as the features of the Pony Original Top Star shoe can surely be striking and stunning at the same time.
Features:
The Original Top Star has a sleek leather upper quilted with the Pony logo.
The side panels have an embroidered classic chevron stripe and are coated with Vivaflex Color System that provides a durable finish and lasting shine on the shoe.
It's a lace-up style shoe that allows a good fit.
The shoe has a padded collar and a cushioned footbed to provide the ultimate comfort for your feet.
It has a flexible and durable rubber outsole that provides greater movement.
Colors:
Black/White/White
White/Black/White
Price: $60.00
The Pony Original Top Star sneakers is definitely a shoe for the stars. Wearing the athletic inspired shoes can keep you up all day. Be the envy of the town– show your flare with the Pony Original Top Star!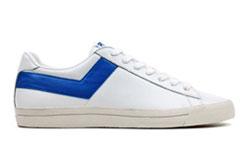 These other Shoe Brands List articles might be helpful to you