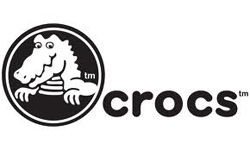 Crocs Footwear, Inc is a shoe manufacturer founded by three friends named Scott Seamans, Lyndon "Duke" Hanson and George Boedecker, Jr in 2002. The first manufacturing plant and the current Crocs Footwear headquarters is located in Boulder, Colorado until the company rapidly branched out into a worldwide franchise with operating companies in Italy, China, Mexico and in other parts of the world.
The company's name and logo was derived from a Crocodile which symbolizes the amphibious nature of this animal who's having in a strong and comfortable living on both land and water.
Related Other American Footwear Company Custom Etnies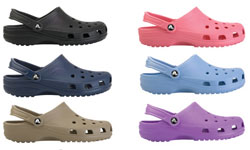 Crocs Footwear can be found across the globe with more than 120 styles such as sandals, flip flops and clogs which are available for men, women and kids and offers an array of colors. It is highly in demand in market in summer season with its slip-resistant soles. Crocs Footwear products uses their proprietary closed-cell resin called Croslite that gives each pair of shoes the soft and lightweight feeling for your feet.
Durability is also assured with this product since is utilize with great rubberized materials. According to a number of podiatrists, Crocs shoes massage your feet as you walk and gives relaxation. Plus, it provides breathability and good ventilation to avoid odor. Crocs is a budget friendly product and gives long life assurance with its features.
Here is the full list of Crocs shoe models and variants:
Athens
Baya Slide
Baya Flip
Baya
Retro Clog
Minoa Canvas Lace-up
Minoa Canvas Lace-up
Men's Karlson Golf Shoe
Men's Croc XTG LoPro Sandal
Men's Preston Golf Shoe
Men's Drayden Golf Shoe
Men's Bradyn Golf Shoe
Keychain
Karlson Golf Shoe
Hover Slip-on
Hover Lace-up
Duet Sport Clog
Duet Plus
Duet Athens
Crocband™ II.5 Clog
Crocband™ Flip
Classic Realtree® V2
Classic
Bistro
Beach Line Boat Shoe
Beach Line Boat Shoe
Check out these other Shoe Brands Category:
Official Website of the Company: