Have you ever wished there was a place where people actually give value to shoes? A place where shoes and sneakers of all sorts are given respect, where employees actually know what they're selling? Believe us, we all have had our fair share of terror when we ask for a certain brand, only to get something else from an oblivious salesperson.
So that is why the Alife Rivington Club List of Footwear is such a treat, for shoe collectors, athletes and people just wanting to have some fancy kicks. Located in 158 Rivington St (between Suffolk St and Clinton St ), at the ever majestic New York , New York ; this place has definitely got to fulfill your shoe dreams to life.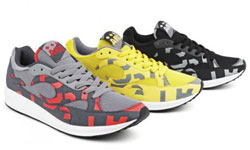 Exclusivity comes into mind, with the place only opened once someone rings the doorbell. Inside, you'll get to meet some of the most well-knowgeable people on shoes, which show just how passionate they are with their kicks. And in terms of selection, you sure can't go wrong – a fine collection from all sorts of brands (Nike, Adidas, Bape and the list goes on) are offered to you, some even from limited and rare lines.
So, you can actually stop wishing and start believing on such a place to exist. Visit the Alife Rivington Club Footwear, to get the best and latest on the shoes that you truly desire to wear.
Check out these other Shoe Brands Category: