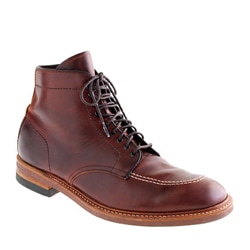 Adventure is out there, so would a popular children's (yet both amusing and enlightening) film would state. Yes, that's from the movie "UP", which promotes how one should take hold and enjoy life. Now, isn't that true!
And since we're on the topic of "movies" and "adventure", wouldn't you consider getting the right footwear for such diverse subjects? And what better adventure movie can serve as inspiration for your shoes than Indiana Jones?
That's right, folks. You can actually wear Indy's cool boots – just check out the Alden Indy Boots. Whether you're a true-blue adventurer or just want to sport the rugged look of Harrison Ford's character, these boots are truly meant for the wild.
Don't take our word for it – the Alden Indy Boots aren't just replicas of a great movie hero. It just doesn't look great, but it is specifically designed to withstand all sorts of punishment. Made out of a tough combination of leather facings and rubber heels, it's the type of shoe perfect for traversing steep hikes, crossing unpredictable rapids, and of course, best of all, the corporate boardroom. Now, aren't these details more than enough reasons for you to go on an adventure? Wear these boots and experience a whole new daring experience today!
Features:
Tru-Balance Comfort
Oil Resistant Neoprene Outsole
Steel Shank Support
Colors:
403 – Dark Brown Chromexel
405 – Brown High Top Moc Toe Workboot
401 – Black High Top Moc Toe Workboot
Price: $468.00+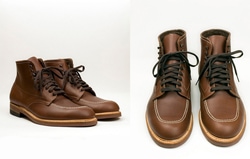 These other Shoe Brands List articles might be helpful to you